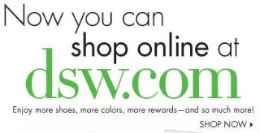 You can now
shop online with DSW
. Yes - that's right - online. I'm just hoping the same deep discounts that can be hunted through in the back of the shoe warehouse retailer can be found online.
I still can't put in to words how thrilling it was when Katie and I found the most fantastic gold and silver flats for $8.00 and $11.00 (respectively). I still wear mine ALL THE TIME! The best part? They had a pair of each in our sizes. Now THAT was a shoe hunting expedition that resulted in pure success.
I'm also really excited about being able to add to my DSW frequent shopper points AND redeem them online. For those of you who have seen the shoe fruits of my addiction in my closet (and my attic - where the furry boots live in the summer and the open-toes in the winter), you know this might get very dangerous for my would-be savings account.
PS: Free standard shipping or better - NICE!!! The website details include this info (and more):
DSW Premier Rewards Members - Free Next Day Shipping with Any Purchase - log in for offer code and details.

DSW Rewards Members - Free Standard Shipping on Any Order - log in for offer code and details.

Non-Members - Free Standard Shipping on Orders of $50 or more through May 14, 2008 with promotion code FSHP50."
Source
: My 04-30-2008 DSW Rewards eNewsletter that hit my inbox this afternoon.