This offer is too good to pass up if you like shopping online for shoes:

"Limited Time Offer: Better than FREE Overnight Shipping!
Promotion extended! For a limited time, Overnight Shipping is *negative* $5. That's right, we'll take five dollars off your order for the privilege of shipping overnight to you. We are serious. Enjoy this special promotion while it lasts! Once the promotion is over, you can again enjoy our day-in and day-out offer of FREE Overnight Shipping."
Endless
is an
Amazon.com
brand I believe - which makes me pretty confident in shopping there. I've never had any trouble with
Amazon
and they have GREAT customer service! The email that I received in my inbox with info about this promotion even offers
FREE RETURN SHIPPING
so shop happy :-)
I really love these daniblack red polkadot heels... at $117 though I'll wait for the sale. But wouldn't they be CUTE for
Valentine's Day
?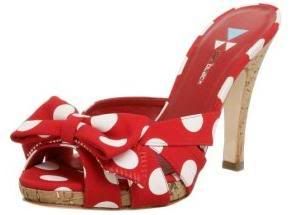 Another cute feature on the site is that when you roll your mouse over the pictures (and there are LOTS of angles of each item) it enlarges it for extra detail!