I am almost always in a
North Face Denali jacket
(
local retail is my first choice, of course
), but they're just too casual for all occasions, outfits, or mood ... plus, they're not really long either.
But alas, they are a NCSU college girl staple - see the following slideshow for proof a la Hillsborough Hike 2007 with the Black North Face Mafia better known as my Pi Phi sisters & Co.
So for all of the other occasions, I have a black pea coat that I've worn for a few years. I've recently come to realize though, that even though it's made by a "petites" brand, it really swallows me up. The shoulders are too big, there is no slim through the waste, and to me... that just doesn't scream "well put together look".
So I'm on the hunt!
I usually start with just a basic "look" search. No budget, nothing. Just a look.
Banana Republic
BR lucked out with a very well-timed email!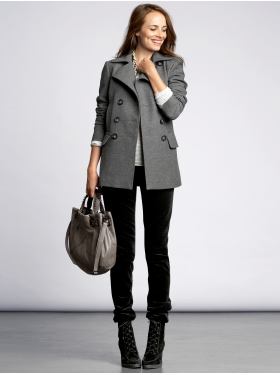 Banana Republic Wool-Blend Pea Coat
The
Wool-Blend Pea Coat
in Heater Grey retails for $180.00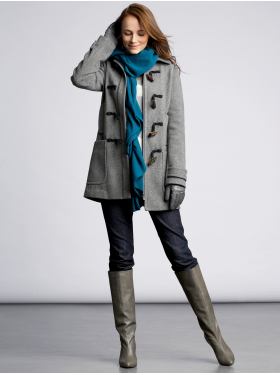 Banana Republic Duffle Coat
The
Modern Toggle Coat
in Charcoal Heather Grey retails for $198.00
I then move to budget and finding something that fits my most important demands at a price point that I can afford with an often "
Champagne Taste on a Miller High Life Budget
" (as
Renee
calls it - because after all...
Miller High Life is the Champagne of Beers
!)
Target
That's when those geniuses at Target sent me a weekly flyer that had some nice in-store only sales going on.
Target Mossimmo Pea Coat
Mossimo Pea Coat
in several colors (purple, red, black, brown, and green) retails for $30.00 (on sale)
Now THAT looks like a good deal! At that price, I could even get a few colors (
including red of course for NCSU football games
). They also look to be a slimmer fit. Of course, since these are in-store only sales, I'd have to hope my local store(s) had my color and sizes, but at least I could try the jacket on before buying.
Old Navy
The BF and I then happened to walk into Old Navy last weekend looking for a white sweater for his Halloween costume (
Fred from the Scooby Doo/Mystery Inc. gang
).
They have a great selection, with lots of price points, but I suspect the large selection online is only carried in varying stores... I really don't remember seeing THAT many jackets there. I did try on the Tab Waist Jacket in red (I think it was the tab waist jacket).
Old Navy Tab Waist Jacket
Old Navy Tab Waist Jacket
in red retails for $98.50
Old Navy Funnel-Neck Coats
Old Navy Funnel-Neck coats
come in pink and black and retail for $89.50
I swear I also tried on something in a winter white at Old Navy, but can't remember which jacket it was.
Hmmm... decisions, decisions, decisions.