I love when vintage items become pretty again.
Right now, I'm really into apothecary jars of all shapes and sizes. I think they make a great addition to any kitchen, bathroom or heck, even an office!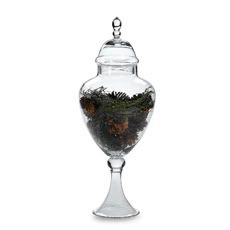 The jar pictured above is on
clearance at Bed, Bath & Beyond
... which is, I'm sure, why they're out of stock :-(... but just
search it on eBay
and you come up with a wealth of options including lots of colors, too! The only thing that sucks is that shipping for these breakables almost doubles the cost. I need to go search around town....