I love my daily dose of fashion from
ShopBop.com
. Even though their selection is very high-end/high-priced so I wouldn't actually purchase much from the site, I do like checking out the trends there that are often available for much less as they trickle-down the fashion supply chain.
My favorite dress out of this morning's "Weekly Cravings" is the following open back dress by
See by Chloe
. The dress is priced at over $600... but it's not a terribly complex dress that if I really wanted to, I could probably whip up myself.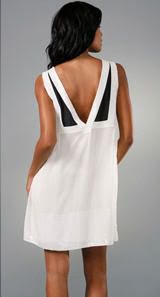 (I'm pretty sure Target, Express, and other local retailers will have suitable choices available with 90% less hassle in the coming months, too.)