Yayyy for those awesome
NoVA/DC Little Black Book girls
and their daily dish on what's hot in the world of busy women everywhere!
This came through my email inbox today and I'm in love... and I think I may need one for my house, my office, my parents' house, and... (the list goes on)!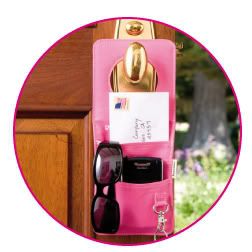 Here's their scoop on this great little organizer:
"The only thing that can save me is The Doorganizer. Whether you are using it every day to get the kids out the door with all their permission slips and other paraphernalia, or you only need it for the occasional early morning flight and accompanying disorientation (e.g. yours truly), it's a handy dandy solution for the scatterbrained.

The only catch is that I have to remember to put it somewhere I can find it. Oh yeah - I'll hang it on the inside of the hall closet door! The 12" x 5" Doorganizer is just $16. Click here to get yours and get organized!"