At my very first
Dress for Success
(
Triangle affiliate
) meeting, one of the first pieces of branding and support for the national organization was highlighted: the DFS scarf designed by Sean Combs (yes, P. Diddy).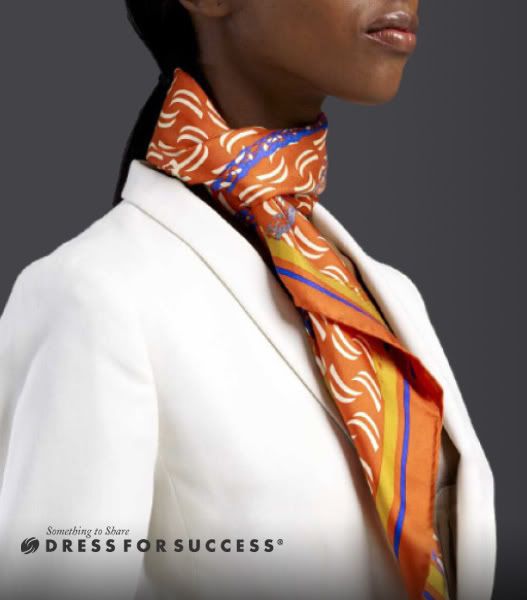 It really is a stand-out piece and a great conversation starter - giving anyone who wears it not only a chance to financially contribute to the organization, but an opportunity to spread it's message to others who may also be in a position to give a bit of their time or wardrobes to others.
Of course,
Scout & Molly's
was one of the first Triangle retailers to offer the scarf - totally not surprising, since owner Lisa Disbrow is almost always pairing her store with one of our many great local philanthropies and causes.
Here's what her most recent store email had to say about the scarves
Also, in the spirit of philanthropy and helping, Sean Combs has designed a scarf for the Dress for Success program.

For just $30

, you can get a great scarf which goes towards helping disadvantaged women by providing clothing and career development and support. We have these really pretty silk scarves at Scout & Molly's of Raleigh.

Come on in and get one to support a great cause to help other women!

So what are you waiting for? Pick up your scarf today, spread the message, and please join me at the next DFS meeting!