There are a few tools that I think every girl must have in her back pocket. For starters, a great shoe repair artisan.
Here's my recommendation who I've recently been wow-ed by (and will now loyally take ALL OF MY SHOES for repair to), with proof to follow:
Olde Raleigh Shoe Repair
3101-113 Edwards Mill Road
(tucked behind the shopping center and gas station...facing Caribou Coffee)
919-781-2428
M-F: 9am-6pm, Sat: 10am-2pm
Their business card lists that they provide services for: all types of shoe and luggage repair, heels, soles, zipper work, leather work, luggage repair, dye, clean, renew, and orthopedic.
Well, as most of you know, I destroy my heels and go through the soles of my boots like its my job. I could just replace the shoes, but most of my shoes I
LOVE
and having a shoe shop that can repair my shoes and keep me wearing them as long as I want... makes me one VERY, VERY happy girl.
The following two pairs of heels (black patent stilettos - Steve Madden, brown faux-snake heels - Mossimo) were destroyed from working, bar-hopping, and puppy chewing. I dropped them off and had them back in two-days (and for less than $20.00!) and they look
BRAND NEW
! I was SO impressed I had to dedicate a blog entry to this local business that has a made a customer for life out of me.
Front tip
: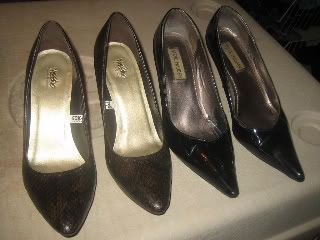 Heel
: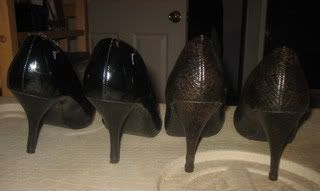 And finally, pointed toes (which were DESTROYED)
: