Finally - two of my FAVORITE brands are coming together:
Under Armour
and
NASCAR
.
(
Betcha didn't expect to see that one coming, did ya?
)
Let me explain
: As a textiles graduate, the top of the line engineering and branding that UA continually excels in is really exciting stuff to me - I even modeled quite a few senior projects after the UA concept. And what's not to love about NASCAR? Cute boys, fast cars, and even some
bad ass girls kickin' butt and taking names in related-industries
(and hopefully, one day in the Sprint Cup circuit).
Thanks to my UA insider for the tip :-)
Carl Edwards to Drive #60 Car w/UA Logo!


TNP star athlete and Current NASCAR Champion Carl Edwards Nationwide 60 car will be decked in Under Armour Black and Silver this Saturday.

"Under Armour Inc. is starting its engines, with its first sponsorship of a NASCAR racing vehicle this weekend.

The Baltimore-based performance apparel company will paste its logo next to a Boston Red Sox mark on NASCAR driver Carl Edwards' No. 60 car this weekend at the New Hampshire Motor Speedway."

See full story: www.autoracingdaily.com/article/under-armour-inc-to-sponsor-carl-edwards-no-60-car/

Edwards is currently ranked 4th behind leader Kyle Busch, Jeff Burton, and Dale Earnhardt Jr. respectively.

Tune into the race this Saturday, June 28th at 2:30 on ABC. Watch Carl compete in the Camping World RV Sales 200, Nationwide Series presented by RVs.com.

See attached PDF for Carl's #60 car with UA Logo by MotorSports Designs!

For more information, please visit: www.nascar.com.
And so that any of you who might miss the race on TV (shame, shame) can get an idea, here's some pics: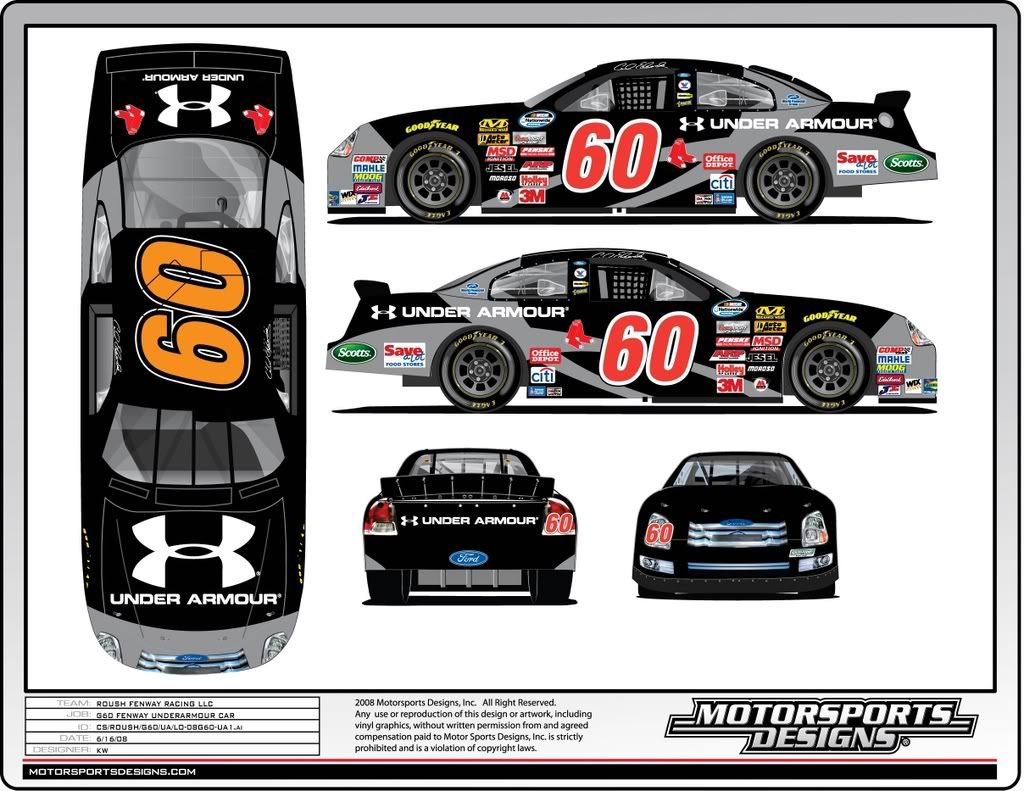 And I couldn't miss an opportunity to post one of the adorable
Carl Edwards
, too!