If you've never been, you're missing out!
Scout & Molly
's is a TRULY FABULOUS boutique in the revamped North Hills shopping center - Lassiter side.

They recently moved across the parking lot and opened up shop right next to Walk - their recent addition which is dedicated to... SHOES (
they call it a Shoetique - how clever
)!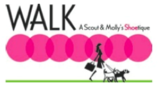 Anyways, I digress, owner/buyer Lisa Disbrow (who is just as awesomely fabulous as her shops) sent out the following scoop via her email list today:
Hello Ladies!
I'm just back from a trip out of town and have lots of news for you!
We finally got in our new recyclable Scout & Molly's & WALK shopping bags. YAY. We are starting a new program where if you bring your bag back in to re-use we will give you $2 off your purchase. Help us help the environment!
Also, we are so happy to announce that all bathing suits are 20% off this week, so come get your suit for summer! Cute ones by BCBG and Ella Moss.
Also, all week, select shoes at Walk are 50-75% off….these are in season shoes, buy now, wear now! Great deals.
I am so excited to see all the new things we got in while I was out last week… new Tibi, Nanette Lepore, Ella Moss, Diane Von Furstenberg and more! Aghhh, I love coming home!

And just for kicks, all long pants and jackets are 20% off Tuesday through Friday.

Cheers!
Lisa, Pam and the girls.
*sale excludes all jeans
Gahhh! I wish I had more in my "shopping budget" for these next few weeks...
PS - I just wandered over to
Scout & Molly's site
really quick to grab a pic for this post and it is BEAUTIFUL!
Check it out
! Join the email list
just by clicking here
!